Octopus Adjustable BIO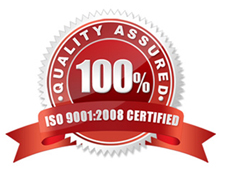 Product details
Brand: Apollo
Many 2nd stage demand valve regulators are calibrated and then tuned for middle of the road performance. Non adjustable 2nd stage do not allow the diver to choose the performance level they would like from their regulator
The new Bio adjustable 2nd stage allows you to increase the performance of your regulator with the twist of a knob. This gives you the choice you need if you either choose or end up in a situation where extra performance or air maybe needed
Our compact, swivelling 2nd stage leads the way in comfort and reduced jaw fatigue.
Internal bypass-venturi system for easy breathing.
New non-stick, anti-bacterial (Zeomic) plating on internal 1st and 2nd stage parts offers unrivalled protection against corrosion and bacterial formation.
Specifications
Bio Air System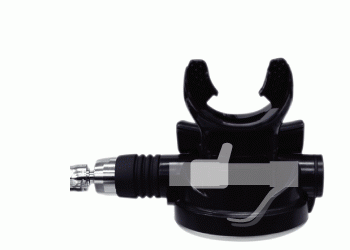 B.A.S. means Bio Air System. Apollo use a high performance internal bypass venturi system in the 2nd stage.
The internal bypass venture system supplies smooth consistent gas to the irrespective of the air pressure and change of depth
Low Pressure Hose with Swiveling Ball Joint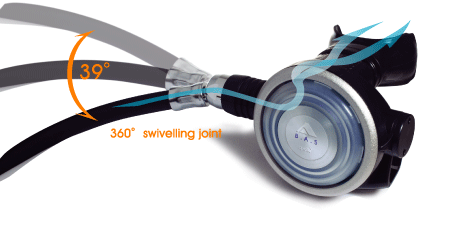 The Apollo high quality hose has ball shaped joint that allows the 2nd stage 39°movement to each side.
The Apollo Low Pressure Hose with Ball Joint leads the world in comfort and reduced jaw fatigue
Corrosion Repellent Plating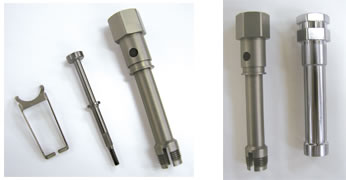 The metal components of both the 1st and 2nd stage of the regulator are processed using a corrosion repellant plating (Zeomic Plating) This offers you unrivalled protection against corrosion and bacterial formation
Purge Cover
The soft durable purge cover is made from high quality polyurethane
Air Flow Adjusting Knob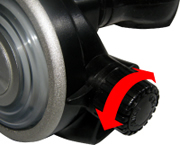 Simple and easy to operate
Turn the adjusting knob clockwise to decrease gas volume supply. Turn the adjusting knob anti-clockwise to increase gas volume supply