VICTA Class Diver Delivery Unit (DDU)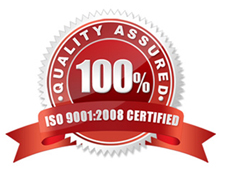 Product details
Brand: Subsea Craft
Model: VICTA Class
VICTA Class Diver Delivery Unit (DDU)
INTRODUCING THE VICTA CLASS DDU
VICTA combines the speed, range and capacity of a Long-Range Insertion Craft with the stealth and versatility of a Swimmer Delivery Vehicle. Designed around the operator, its 30 kt+ speed, 250 nm endurance and 2-minute transition between surface and sub-surface, enables delivery of 8 operators and their equipment to their objective 'mission-ready' before recovering them – rapidly and covertly.
250 NM SURFACE RANGE
VICTA's combination of prodigious surface range with its suitability of deployment from platforms as diverse as a standard shipping container, through road-trailer and helicopter, to surface vessel or air transport – all without recourse to costly strategic assets – bestows potentially game-changing tactical and strategic options in maritime, joint and special operations.

INDUSTRY-LEADING TRANSITION FROM SURFACE TO SUBSURFACE
The transition from high-speed surface passage to submerged operation is rapid. The single control system enables the craft to seamlessly shift from one dimension to the other and dive to the fully submerged state in 2 minutes. A further 2 minutes sees the craft reach its maximum dived depth of 30 m. This reduces risk at the most vulnerable operational point in a mission profile, avoiding potentially dangerous surface dwell time and enables uninterrupted focus on tactical situational awareness.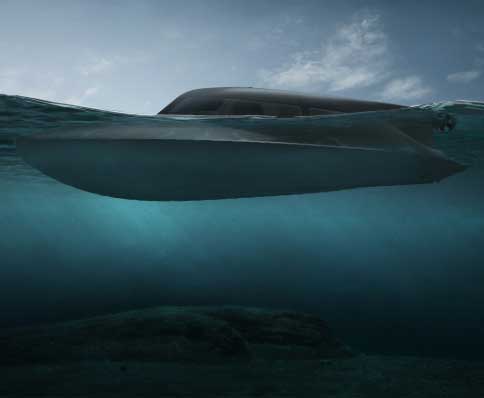 ADVANCED COMPOSITE MATERIALS
The hull design combines a high strength-to-weight ratio with great design flexibility to meet the likely stresses of potential mission profiles whilst remaining adaptable to satisfy bespoke requirements.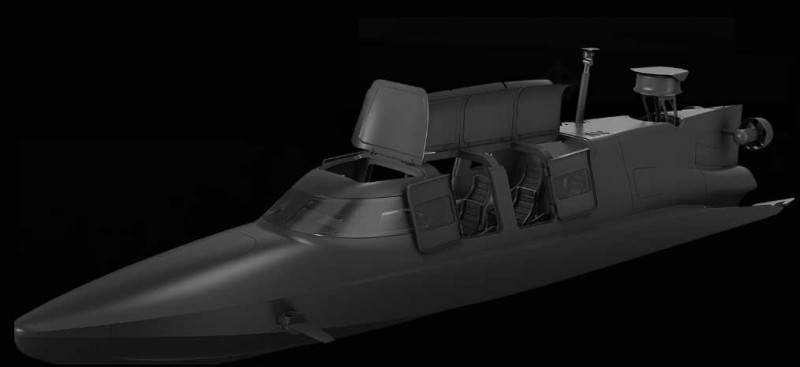 FLOODED HULL TECHNOLOGY
The requirement for stable, predictable and responsive handling is paramount and thus VICTA's flooded-hull design and technology takes this fully into account ensuring that the pilot's workload is minimised when submerged.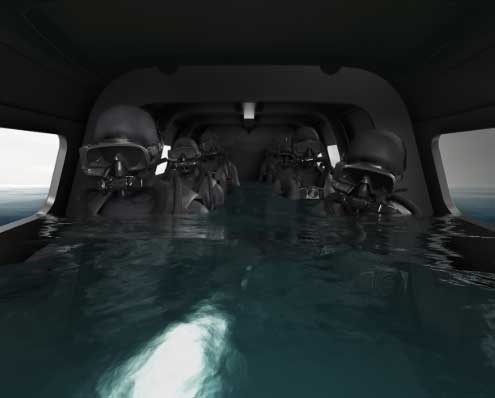 OPERATOR-CENTRIC DESIGN
VICTA is specifically designed around the user, ensuring that operators are delivered to their objective mission-ready. Ullman Dynamics moulded seats and advanced shock-absorbing systems ensure a comfortable ride even at high surface speed whilst the adaptable, ergonomic layout allows configuration of the cabin to be optimised to meet the specific mission requirement.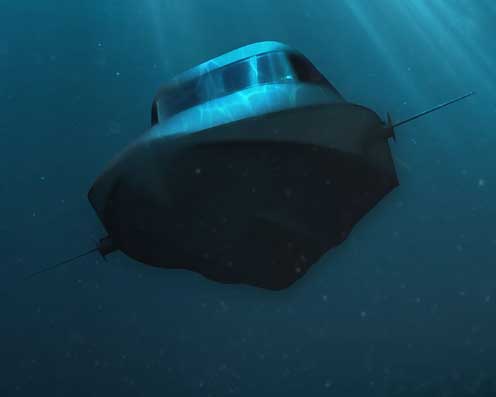 FLY-BY-WIRE CONTROLS
A state of the art control system and Human-Machine Interface provides surface and sub-surface navigation whilst ensuring both optimal stability under water and outstanding manoeuvrability and sea-keeping on the surface. This reduces pilot workload in both dimensions whilst providing the basis for remote and autonomous options to be realised.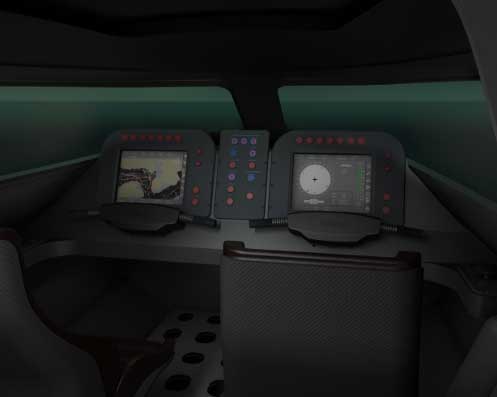 CONFIGURABLE SEATING AND CARGO SPACE
VICTA provides tactical adaptability by offering an adjustable payload space to precisely match load and diver combinations to mission requirements. Seating is mounted on a rail attachment system enabling rapid and simple re-configuration to suit operator need and thus presenting greater operational flexibility.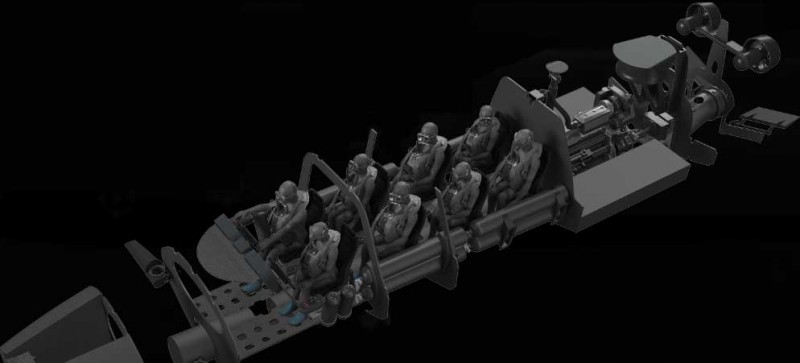 HIGH-CAPACITY LI-ION BATTERY TECHNOLOGY
Submerged propulsion and stability is provided by electric thrusters, themselves powered by high-capacity Li-ion batteries. Individual sealed units combine to provide up to 4 hours of submerged operation allowing up to 25 nm endurance under water.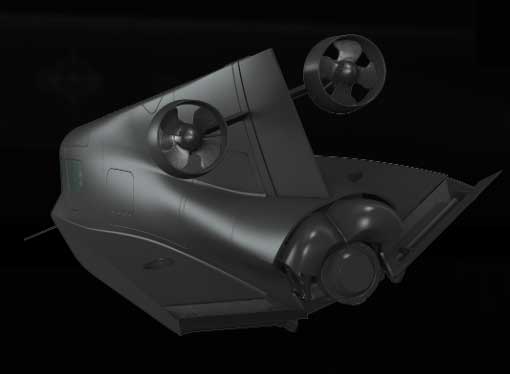 DIESEL-POWERED WATER JET
The Seatek diesel engine delivers 725 bhp through Kongsberg Kamewa waterjets, propelling VICTA at surface speeds of up to 40 kts with an endurance of 250 nm whilst ensuring responsive control and outstanding surface manoeuvrability and sea-keeping.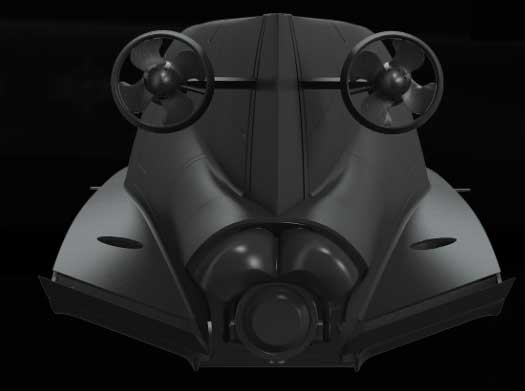 Specifications
VICTA Class Diver Delivery Unit (DDU)
The Diver Delivery Unit, VICTA, employs innovative, proprietary systems specifically developed by SubSea Craft, making it both future-proof and highly secure. It also incorporates tried-and-trusted elements already widely in service, giving you the assurance of reliability, longevity and simplified maintenance.
Control system
VICTA's unique multiplex controller is designed around proven Controller Area Network (CAN) technologies allowing common architecture and integration. The craft is fully fly-by-wire, with an advanced control system developed in-house by BAR Technologies. Using experience gained from previous America's Cup and Princess Yachts projects, the control system manages the dive and surfacing evolutions safely and provides all propulsion controls. The design allows easy upgrading of guidance and automation systems.
Command system
The Human-Machine Interface for the vessel is provided through a dedicated command system developed by SCISYS. Drawing on their experience from supplying systems to the RNLI, the command system monitors all systems on-board, the specially-designed helm and dashboard provides a user interface displaying vital performance, diagnostic and crew status information at a glance.
Hull form
Designed and optimised by UK-based Naval Architects BAR Technologies, world leaders in fluid dynamics, optimisation and composite materials engineering, the hull is capable of achieving a surfaced planning speed in excess of 40 kts and a cruise speed of 30 kts. Full CFD simulations for both surfaced and sub surfaced running ensure a dynamically stable craft with a maximum submerged speed of 8 kts.
Materials
VICTA's hull is constructed from carbon fibre and Diab core to yield an efficient strength-weight ratio design. Built locally in AC Marine and Composites, Gosport, the hull can withstand the wide range of surface and sub surface loads that are dictated by the mission profiles.
Propulsion & Control: surface
Powered by a customised Seatek 725+ diesel engine which outputs 725 bhp, surface propulsion is provided to the world renowned Konsberg (Rolls-Royce) Kamewa Water Jet series. Control of the craft is through purpose built steering columns giving the pilot a common interface for both surfaced and sub surface running.
Propulsion & Control: submerged
A pair of marine propulsion 20 kW electric thrusters provide forward propulsion at speed up to 8 kts. The craft will be "flown" whilst submerged, with roll and pitch control through forward and aft hydroplanes. 4 Copenhagen thrusters are mounted vertically for accurate slow speed depth control.
Battery technology
Industry leading subCtech Li-ion SmartPowerBlockstm design with built-in battery management systems integrated in a rugged titanium housing, providing 140 kW of power dedicated to subsea operation.
Life Support System
An onboard open circuit air system will provide 8 operators with 4 hours of air based on a mean breathing rate of 18 lpm with a reserve of 20%. SubSea Craft is working with a global leader in rebreather systems to develop an extended range rebreathing system to be fitted to future VICTA Class variants.
Seating systems
VICTA delivers operators to their objective mission-ready. The patented Ullman Dynamics moulded seats and advanced shock-absorbing systems provide a comfortable ride – even at high surface speed – and are mounted on a rail attachment system, enabling rapid and simple re-configuration to suit the mission requirements.
Certification and Safety Case
Alongside DNV-GL certification, VICTA has Lloyd's Register certification and the hull is being built under Lloyd's Register survey rules. Our safety case is developed in conjunction with BMT a leading international design, engineering, science and risk management consultancy with a reputation for engineering excellence.
SPECIFICATIONS
Principal particulars
Length overall 11.95 m
Beam overall 2.3 m
Draught 0.6 m
Full fuel and 2 crew 0.64 m
Height (excluding aerials) 2.0 m
Crew (pilot and navigator) 2
Swimmers 6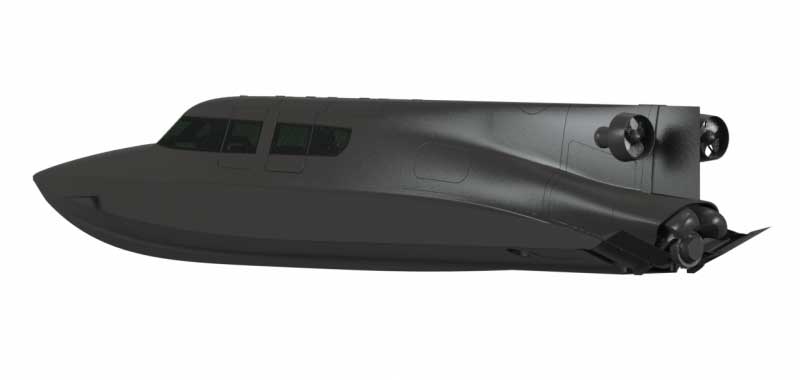 Surface particulars
Displacement – dry 6919 kg
Full load displacement 9315 kg
Fuel tank (fitted) 900 l (2 X 450 l)
Speed 30/40 kts
Full load condition (sea state dependent)
Endurance 250 nm(expandable)
Engine Seatek 725 Plus diesel (533kW)
Gearbox ZF 220 (with neutral position)
Waterjet Rolls-Royce Kamewa FF37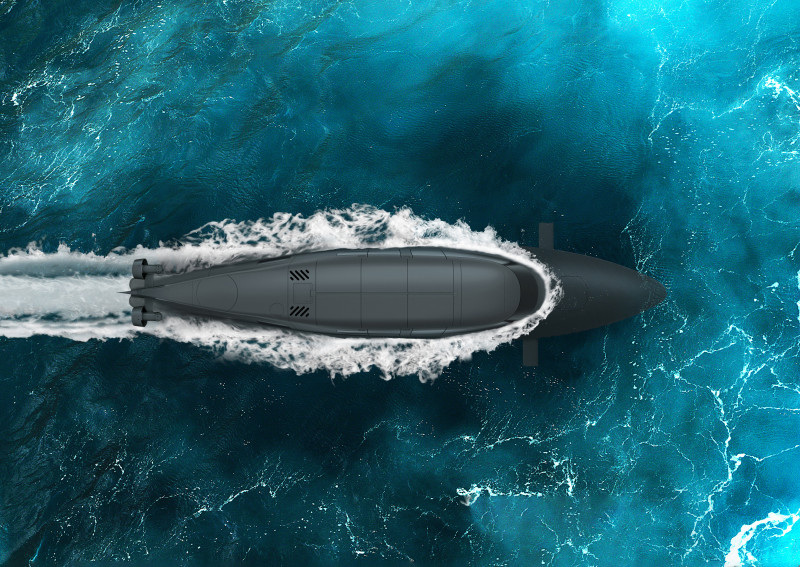 Dive depth 30 m
Cruise speed (opps) 6 kts
Sprint speed 8 kts
Range 25 nm
Battery power 140 kWh
Battery type Li-ion
Main thrusters 2 X 20 kW
Trim thrusters 2 x 3.5 kW 2 x 2 kW
Transition dive time 120 seconds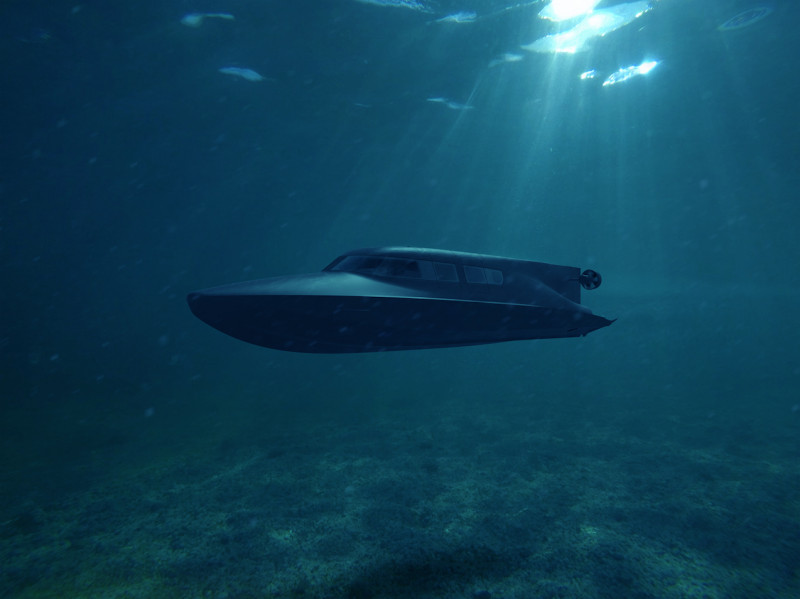 Defence application: concept of operations
Easily transportable intra and inter theatre using in-service strategic and tactical lift assets (fits in a standard ISO shipping container), VICTA is designed to operate independent of strategic assets and particularly from vessels and ports of opportunity. Able to deliver a team of Special Forces operators up to 250 nm on the surface and, transitioning to the subsurface mode 12 nm from the target area, it can deliver the team close to their operating area using personal rebreathers for the final infiltration to ultimately deliver land effect.
Future development of the Diver Delivery Unit family will deliver full autonomous capability both on the surface and sub-surface. As such, this technology will deliver across the full spectrum of maritime capability from intelligence, surveillance, reconnaissance and target acquisition to maritime interdiction operations, delivery of sensors to kinetic action. The Diver Delivery Unit family is equally relevant in the home land security and constabulary roles as more traditional defence roles.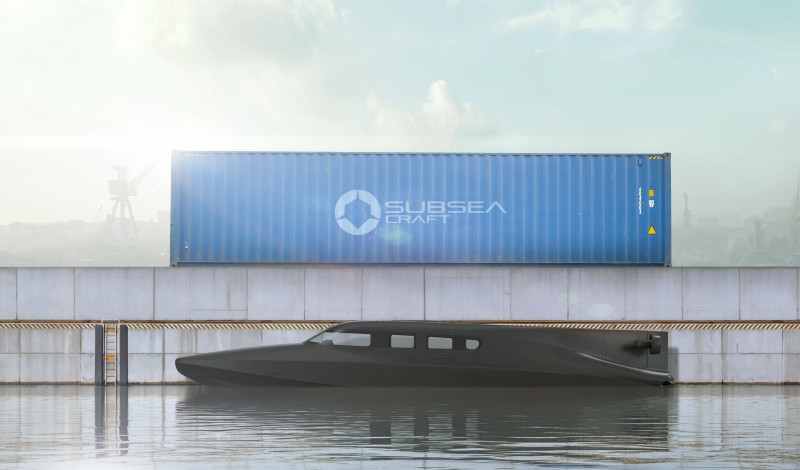 SUPPORT
VICTA Class Diver Delivery Unit (DDU)
Our priority is to provide a craft designed around you, the end user. In doing so, we provide a complete end-to-end support package to ensure that the craft meets your precise needs (including bespoke build requirements), entering smoothly into active service and providing peerless reliability and availability beyond.
Requirements
Our start point is to develop a precise understanding of the capabilities you require. As a part of this scoping process, we will consider all relevant factors including the specific operational parameters, support and training requirements alongside the craft's expected lifecycle.
Specification
Next, we will work with you to develop a detailed specification and User Requirement Document (URD). Once agreed, we will work closely with you to design your craft to meet your precise needs, consulting, advising and compromising where necessary, but ultimately, developing and building world-leading capability based on your requirements.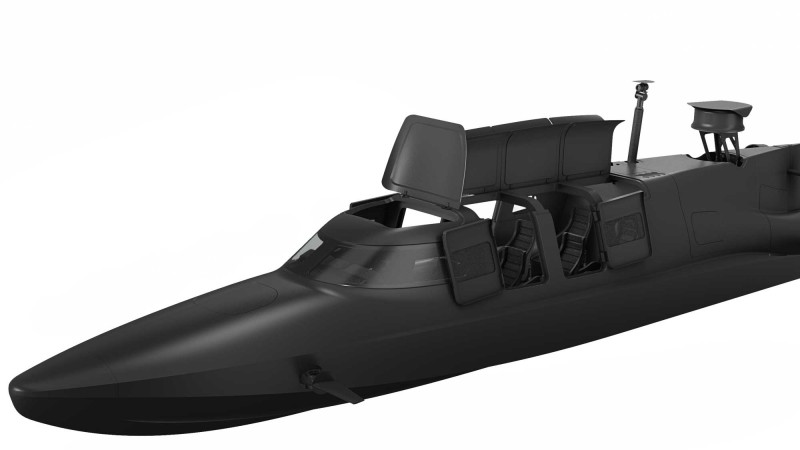 Build and configure
The spec is then cross-referenced against the craft at the Technology Demonstration level, through Prototype and, depending on the volume needed, into Low Rate Initial Production (LRIP).

Commissioning
Our engineers will work alongside your team to bring your craft into service following an established path through initial to full operational capability, leading to lasting service.
Training
We offer fully bespoke training packages for operators, support and maintenance teams at our R&D and Training base in Portland, UK. 'Train the Trainer' style instruction can be delivered there prior to follow-on or continuation training, which could be conducted at a location of your choosing. Dependant upon your needs, this could cover:
Technical familiarisation
Launching and recovery procedures
Storage procedures
Pre-flight checks
Fuelling and charging
Air charging
Surface running procedures
Transition procedures
Submerged running procedures
Emergency evacuation and shut down procedures
Planned maintenance scheduling (by individual system)
Simulators are also in development, enabling training at lower cost and providing an ideal platform for ongoing development.
Ongoing servicing and support
Return-to-manufacturer maintenance (including mid-life updates) is offered and we can also deploy mobile technical support and maintenance teams for global on-site support.